Product Description
The Agriculture Solution Package 2.0 uses the new A3-AG 2.0/N3-AG 2.0 flight controller and radar sensing system. The MG Intelligent Operation Planning System, DJI Agriculture Management Platform, and the new spraying system significantly improve agricultural plant protection efficiency. These additions make precise plant protection operation, efficient operation planning, and real-time flight management possible. The A3 AG2.0 good for heavy load Agriculture Spraying Drone , Such as X1400 10L, V1300 10L, V1650 16L, V1650 20L, and V1800 25L Drones. And N3 AG 2.0 Flight controller work good on X1100,V1000, and V1300,X1400 Crop Spraying Drones.
There has 3 models of the solutioins:
AMU 2.0 Standard , With single Radar,
AMU 2.0 Pro, With 3 Radars,
AMU 2.0 Pro + Obstacle Radar,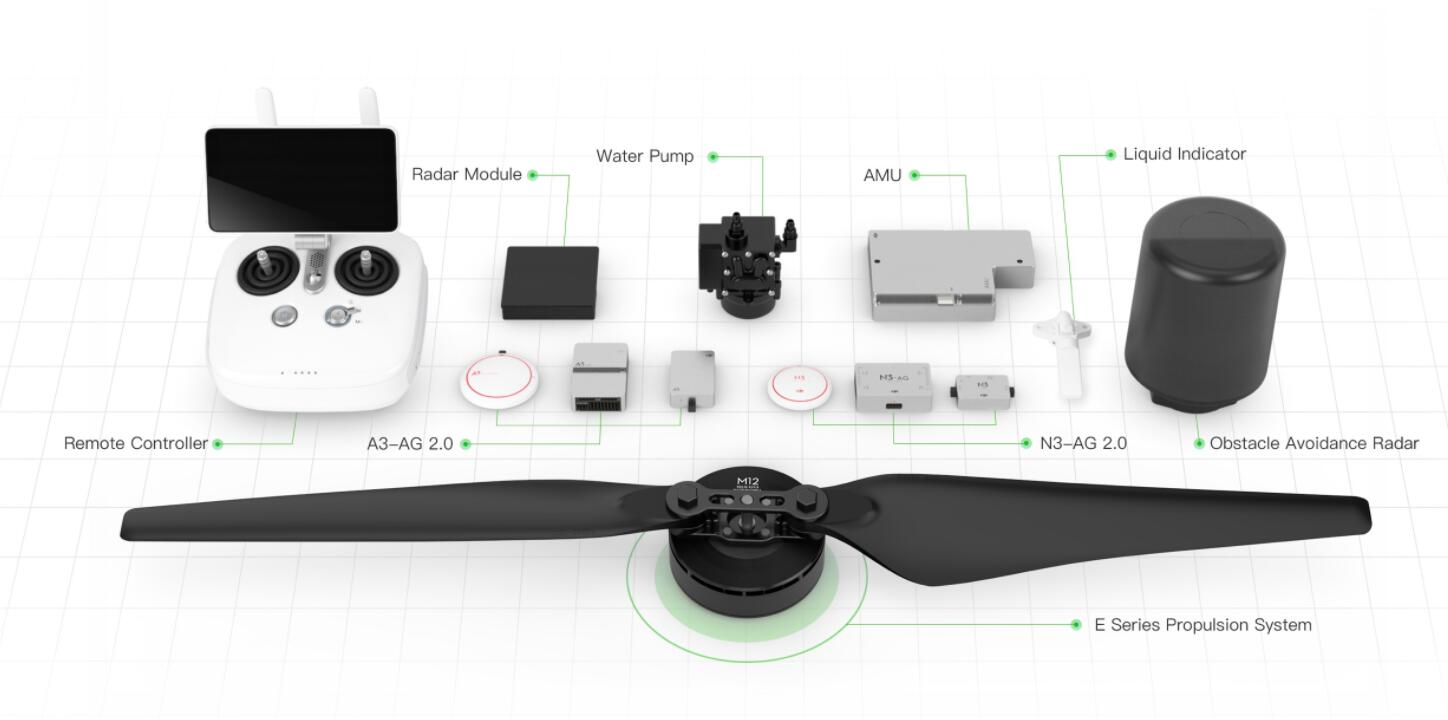 Efficient management:
Use the Agriculture planning App, the Agriculture Solution Package 2.0 allows users to check aircraft status and closely monitor the operation. It also makes it more convenient to manage aircraft and operators, check the land, and allocate operation tasks, making for more efficient team management.Sharing field plan files can help pilots avoid repeated labor, and the new optimized Banked Turning mode improves flight operation efficiency.
Intelligent Route Planing
1.Users can plan, edit, and change flight routes by App.
2.Users can easily set and adjust pesticide usage. You can also choose between Efficient mode and Intensive Spraying mode for different operational needs.
3.Through GS Pro, you can acquire real-time aerial images of the fields, set plant protection tasks, and export the tasks to your agricultural drones to begin a process automatically, making planning and operation more efficient.
High-Precision Obstacle Avoidance Radar Module (Additional Parts.)
The high-precision obstacle avoidance radar allows for detection of obstacles in front of, or behind the aircraft at a distance ranging from 1.5 to 30 meters. While flying over fields with complex terrain conditions, the aircraft will alert the pilot when it detects an object. It will automatically hover in front of the obstacle and pause the operation.
The radars on the front and rear sides detect terrain, allowing the aircraft to adjust its height accordingly. The downward radar provides high-precision altitude. As the sensors scan, the agricultural drone is able to perceive changes in terrain, adjust its altitude, and maintain its altitude above crops, covering more ground efficiently.
Functions List and Specifications: