Product Description
PS18-16L is a Landing Gear with spraying system for Agricuture Spraying Drone, Use it for build your own Spraying Drones. It has the Sliding Battery Tray Set for fast reload batteries. It support 2*6S 22000mAh Batteries or 1*12S Lipo 22000mAh Battery. This spraying system intergrated 6S 25W (or 12S 25W Brushless Pump) Liquid Brushless Pump, The flow is 4L/minute. include 4 Anti Collision nozzles. The Drone Pesticide Tank has the screws nuts for mount the Agriculture Drone Flight Controller parts, Such as DJI Radars,JiYi/Paladdin/TopXgun Radars and Liquid level sensor etc. Big water inlet diameter is ø100mm with the stanless steel filter.
The Landing Gear has follow parts optional:
1-Folding Spraying Boom Nozzles kit * 1 pair
2-Anti-collision Nozzles Set *4
3-Aluminium Alloy Pipe or Carbon Fiber Pipe Optional.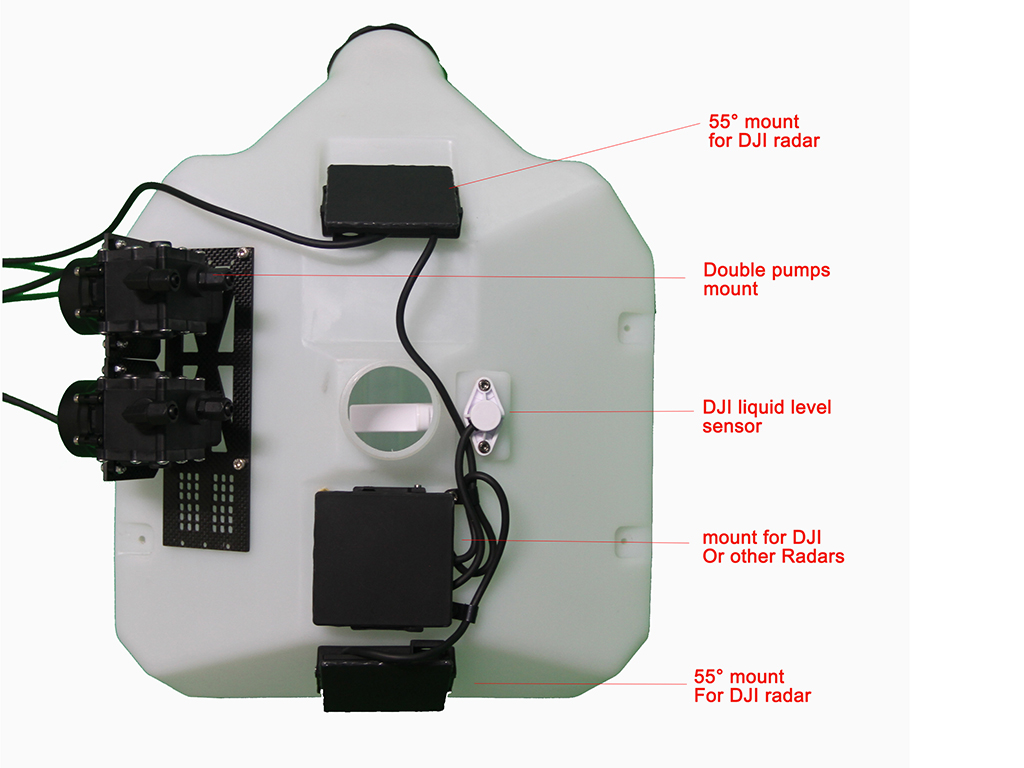 Parts List:
ø18*550 Alloy Pipe *2
ø18*400 Alloy Pipe *2
ø12 Sponger *4
ø18 Landing Gear Mount *4
ø18-18 Nylon Tee Fitting *4
6S Brushless Pump *1 (Or 12S Pump)
6S 30A ESC for Brushless Pump *1 (12S Pump intergrated ESC inside)
16L Tank mount *4
16L Tank set *1
Anti-Collision Nozzles *4
ø10*8*700mm PU tube *1

ø12*10*200mm PU tube *1

ø8*6*1200mm PU tube *4